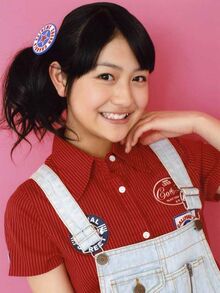 Hashiguchi Erina (橋口恵莉奈) is a former member of Tsunku's NICE GIRL Project!. She graduated from Canary Club's subgroup CAN'S on June 14, 2009, but remained a member of MM Gakuen Gasshoubu and released solo work.
As of July 31, 2010, Hashiguchi graduated from NICE GIRL Project!.
Profile
[
]
Name: Hashiguchi Erina (橋口恵莉奈)
Nickname: Eri~na (えり~な)
Birthdate: November 18, 1996
Birthplace: Chiba Prefecture, Japan
Blood Type: O
Western Zodiac: Scorpio
Eastern Zodiac: Rat
NICE GIRL Project! groups:
Works
[
]
Dramas
[
]
[2001] Hyoten 2001 (氷点2001)
[2002] Psycho Doctor (サイコドクター)
[2003] Ashita Tenki ni Naare. (あした天気になあれ。)
[2003] Kekkon Soudan in. Suenaga Uduki no Suiri Annai Jou. Jigoku no Hanayome (結婚相談員・末永卯月の推理案内状・地獄の花嫁)
[2004] Mama wa Joi-san (ママは女医さん)
[2004] Tokusou Sentai Dekarenjaa (特捜戦隊デカレンジャー)
[2005] Fukigen na Gene (不機嫌なジーン)
[2005] Ue wo Muite Aruko ~Sakamoto Kyu Monogatari~ (上を向いて歩こう〜坂本九物語〜)
[2007] Hahaoya Shikkaku (母親失格)
[2007] Dondo Bare (どんど晴れ)
Television
[
]
[1997] Inai Inai Baatsu! (いないいないばあっ!)
[2003] Shiodome Style! (汐留スタイル!)
[2006] Enta no Kamisama (エンタの神様)
[2006] Kiss Paradise! (キッズぱらだいす!)
[2006] Drama Complex (ドラマコンプレックス)
[2006] Kayou Dorama Gold (火曜ドラマゴールド)
Movies
[
]
[2002] Tasogare Seibei (たそがれ清兵衛)
Discography
[
]
Canary Club
[
]
[2007.05.03] SWEET & TOUGHNESS
[2007.07.25] Seishun Banzai!
[2008.01.01] FAITH!
[2008.04.09] Nishiki Kazare
[2008.09.10] Hitomi ga Kirakirara
MM Gakuen Gasshoubu
[
]
[2009.05.20] Mecha Mote I LOVE YOU
[2009.07.15] Mecha Mote! Summer
[2009.10.21] Daisuki ni Nare! / Kokoro Kimi ni Todoke
As Herself (Eri~na)
[
]
Dokitsu! Kouiu no ga Koi na no?