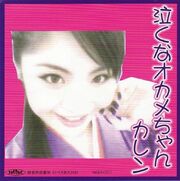 Naku na Okamechan (泣くなオカメちゃん; Don't cry Okamechan) is the first and only indies single by Enka singer Karen, it was released on December 10, 2007 and sold a total of 1,370 copies.
Single Information
[
]
Naku na Okamechan
Lyrics: Yoshida Oh
Composition: Ichikawa Shosuke
Music Video
[
]
Trivia
[
]
In order to have a major debut, she was given the challenge of selling 1,000 copies of this single and lose weight.
This is a cover of Bunya Okame's 1978 song of the same name.
The single was released one year, two months after the songs composer, Ichikawa Shosuke, passed away from liver failure.