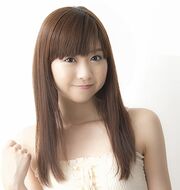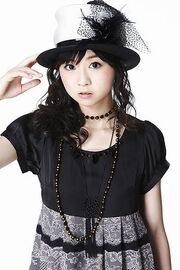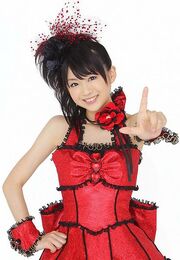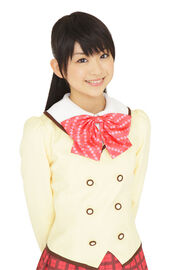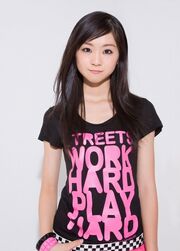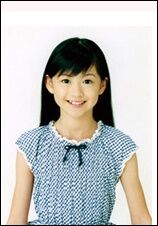 Ogawa Mana (小川真奈) is a voice actress, model, and singer currently under Space Craft Group. She is a former idol as a member of Canary Club which was a part of NICE GIRL Project!, created by Tsunku. She has sold over 85,219 copies in Japan alone.
Biography
[
]
2006
[
]
In 2006, Ogawa joined the unit Magical Sweets for the anime Sasami: Magical Girls Club, starring as the main character Sasami Iwakura.
2008
[
]
In 2008 she debuted her solo career with Suppin Rock which also starred the Canary Club.
2009
[
]
Since 2009 she has been the voice of Kitagami Mimi, the main character of the anime Gokujou!! Mecha mote Iinchou and sings the opening and ending themes as a member of the unit MM Gakuen Gasshoubu .
2010
[
]
Ogawa became the new image girl of the fashion line COCOLULU. She also joined the promotional unit COCO CREW.
2011
[
]
On June 28, Ogawa opened her own official Ameba blog.
A Wii video game called Minna no Rhythm Tengoku had new songs from THE Possible, Canary Club, Ogawa Mana, and (Kurei) Soshi!. The game was released on July 21, 2011.
2012
[
]
On March 21, Ogawa, Masahide Mikage with Razz Like Air, & THE Possible released a maxi-single titled "Playball". The single included an official theme song for Japanese female professional baseball and a theme song for Osaka Brabee Honeys.
2013
[
]
On July 27-28, Ogawa performed at Tokyo Idol Festival 2013.
Profile
[
]
Nickname: Ogamana (おがまな)
Birthdate: July 2, 1993
Birthplace: Saitama Prefecture
Blood Type: AB
Height: 160 cm
Special Skills: Ballet, Walking on Bridges
Hobbies: Making Misanga, Watching soccer
Charmpoint: Eyes
Favorite Food: Umeboshi, Udon, Ishiyakiimo, Vinegar
Least Favorite Food: Cheese, Meat
Favorite Color: Aqua Blue
Least Favorite Color: Yellow
Favorite Pasta: Vongole
Favorite Sport: Badminton
Favorite Thing: The Sky
Poor At: Swimming, Ball Sports
Instrument: Piano
Pet: Turtle
NICE GIRL Project! groups:
Other Groups:
Singles Participated In
[
]
Canary Club
[
]
Discography
[
]
Singles
[
]
[2008.11.19] Suppin Rock (スッピンロック)
Albums
[
]
[2010.07.21] ① Teenage Blues (ティーネイジ ブルース)
Character Singles
[
]
Released as Kitagami Mimi (CV Ogawa Mana) with MM Gakuen Gasshoubu
Character Albums
[
]
Released as Kitagami Mimi (CV Ogawa Mana) with MM Gakuen Gasshoubu
[2010.03.03] Mecha Mote Iinchou Mecha Hit Kyokushuu 1 (めちゃモテ委員長 めちゃヒット曲集①)
[2011.01.12] Mecha Mote Iinchou Mecha Hit Kyokushuu 2 (めちゃモテ委員長 めちゃヒット曲集②)
Compilation Albums
[
]
[2010.02.06] COACH Original Soundtrack Track (#20: MAP ~Mirai no Chizu~)
DVDs
[
]
[2009.09.20] Namamana (なままな)
[2009.12.23] Namamana Gold (なままなゴールド)
Photobooks
[
]

Digital Photobooks
[
]
Mana Ogawa#1
Mana Ogawa#2
Mana Ogawa#3
Mana Ogawa Namamana ver.1
Mana Ogawa Namamana ver.2
Works
[
]
Movies
[
]
TV Programs
[
]
[2009-2011] Oha☆Star (おはスタ)
TV Dramas
[
]
[2004] Niji no Kanata
[2005] Last Friend
[2008] Hitmaker Aku Yuu Monogatari
Anime
[
]
[2006] Sasami☆Mahou Shoujo Club (砂沙美☆魔法少女クラブ) (as Sasami Iwakura)
[2008] Hyakko (ヒャッコ) (as Hitsugi Nikaido)
[2009] Gokujou!! Mecha Mote Iinchou (極上!!めちゃモテ委員長) (as Mimi Kitagawa)
[2010] Gokujou!! Mecha Mote Iinchou Second Collection (極上!!めちゃモテ委員長 セカンドコレクション) (as Mimi Kitagawa)
Theater
[
]
[2007] Tsunku♂THEATER (つんく♂THEATER) (as Sakate Nami)
[2012] Lucky Star ≈ On Stage (らき☆すた≒おん☆すて) (as Tsukasa Hiiragi)
[2013] New Lobo the King of Currumpaw (新オオカミ王ロボ~シートン動物記より~) (as Blanca)
Total Sales Count
[
]
| Year | Year Sales | Total Sales |
| --- | --- | --- |
| 2008 | 5,331 | 5,331 |
| 2009 | 40,615 | 45,946 |
| 2010 | 38,148 | 84,094 |
| 2011 | 1,125 | 85,219 |
External Links
[
]