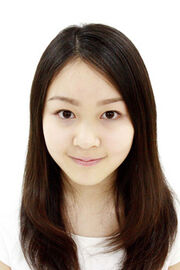 Sakaue Mayu (坂上麻優) now going by the name Sorane Mayu (空音マュ) is a former member of NICE GIRL Project! as a NICE GIRL Project! Kenshuusei. She graduated on May 14, 2012.
Name: Sakaue Mayu (坂上 麻優)
Stage Name: Sorane Mayu (空音マュ)
Birthdate: September 4, 1998
Bloodtype: O
Measurements:
Height: 151cm
Bust: 75.0
Waist: 56.0
Hip: 80.0
Shoe: 22.5
Special skills: Singing, dancing
Hobbies: Karaoke, Disney, Talking with friends, movie appreciation, Listening to music, writing poems, painting
Likes: Singing, the sky, the sun, rainbows, rainbow-colored earmuffs, Earmuff members, music, trumpet, close friends
Dislikes: Work, Tests, Flames, Annoying people, Narcissist people
Favorite Colors: Blue, Light blue
Favorite Artists: Ikimonogatari, Kanjani Eight
Favorite Manga: Attack on Titan
Favorite Game: Dangan Ronpa, Vocaloid
Favorite Western Shows: The Grim Adventures of Billy and Mandy, Codename: Kids Next Door
Favorite Food: Chocolate, Vegetables, Ice
Least Favorite Food: Most seafood, Chicken, Eggplant, Bitter melon
She has posed for Best Jeanist.
Her favorite sport is dance.
Her favorite animals are dogs, cats and rabbits.
Her favorite place to be is on her futon.
She'd like to go on a date to Disneyland or to the sea.
If she won the lottery, she'd buy a house or a PC.
She'd like to challenge herself by trying to skydive.
She'd like to travel to Venice, Italy.
On average, she sleeps 6-7 hours.
Her favorite Codename: Kids Next Door characters are Wallabee Beatles and Kuki Sanban, she refers to them as "WallaKuki".
Her favorite Vocaloid characters are Kagamine Rin and Len.
She is in a fictional idol group/community on Ameba Pig called "Niji iro Earmuffs" (Rainbow-colored earmuffs) (虹色イヤーマフ).
Community content is available under
CC-BY-SA
unless otherwise noted.