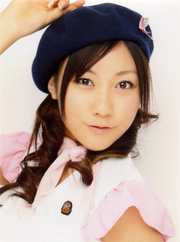 Sugiura Riho (杉浦里穂) is a Japanese model, idol and a cheerleader. She is a former member of Canary Club. She joined Canary Club in 2007 and graduated from the group two years later in January 2009. She was a member of CAN's when Canary Club was split into 2 groups.
Prior to joining Canary Club, Sugiura was a model. She won the JewelDrop Oshare Contest on December 16, 2001 and won a Love Berry audition on March 28, 2004.
In 2011, Sugiura became a cheerleader with Cheer Dragons, the cheerleading team for the Chunichi Dragons. She is currently going under the name Sugiura Riho (杉浦りほ).
Name: Sugiura Riho (杉浦里穂)
Nicknames: Rippon (りっぽん), Osugi (おすぎ)
Birthdate: February 3, 1992
Birthplace: Handa, Aichi Prefecture, Japan
Blood Type: O
Height: 158cm
Shoe size: 24cm
Western Zodiac: Aquarius
Hobbies: Foreign drama appreciation
Special Skill: Ballet, Gymnastics
Strong Point: Always Positive
Charm point: Cat-like
Favorite Foods: Ramune, Okonomiyaki, Pizza, Takoyaki, Tomatoes
Least Favorite Foods: Mayonnaise, Vegetables
Favorite Colors: White, Pink
Least Favorite Color: Light Brown
Favorite Sport: Badminton
Favorite Subjects: Physical Education, Music
Least Favorite Subjects: Math, Sociology
Looks up to: Namie Amuro
Discography Participated In
[
edit
|
edit source
]
(2008.05.24) Canary Club Live Document DVD Omaketsuki -2008.4.6 Sunphonix Hall in Yokohama Arena ~Yokohama Canaria Diamond~
(2008.07.25) Canary Club Genki da! Mizugi da! Saipan da!
(2008.07.25) Canary Club Hajimete no Saipan Hitorijime!
(2008.09.10) Canary Club Single V Clips 1
(2009.02.27) Canary Club 2008 Aki ~Shibuya de Kirakirara
She loves Winnie the Pooh.
Her favorite sports team is the Chunichi Dragons, and her favorite player is Oda Kohei.
Her favorite number is 1.
Her favorite instrument is the Alto Horn.
She has a younger brother.
Community content is available under
CC-BY-SA
unless otherwise noted.