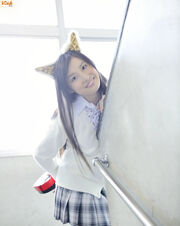 Tokita Eri (時田愛梨), mostly known as her stage name Tokky (とっきー), is a Japanese pop singer, she is a soloist with TNX and NICE GIRL Project! until the program was shut down on November 16, 2014. She is a former member of MM Gakuen Gasshoubu.
Profile
[
]
Name: Tokita Eri (時田愛梨)
Nickname: Tokki, Tokkii, Tokky
Birthdate: March 6, 1992
Birthplace: Tokyo, Japan
Blood Type: B
Height: 160cm
Bust: 85cm
Waist: 61cm
Hips: 88cm
Bra Size: F
Hobbies: Western music appreciation, movie appreciation
NICE GIRL Project! groups:
Photobooks
[
]

DVDs
[
]
[2010.07.23] Tokkii Mekki HAPPY!
[2010.12.15] Tokkii Dokki Sexy!!
[2011.05.20] Watashi no namae wa Tokita Eri desu
[2012.04.25] Tokkii Fu・Wa・Ri
[2012.07.21] Tokkii Sunrise
[2013.07.20] Tokkii-Melty
Works
[
]
Film
[
]
[2012] Atsuhime Number 1 (篤姫ナンバー1)
Trivia
[
]
Her favorite foods are mango, sashimi, meat, and sea urchin.
Her favorite male talent is Johnny Depp.
Her favorite female talents are ANGIE, Jennifer Garner, and Charlize Theron.
Her favorite artists are Britney Spears (Buri-chan), Miley Cyrus, Christina Aguilera, and Celine Dion.
Her favorite movie is Pirates of the Caribbean.
Her favorite book series is Harry Potter.
Her favorite cartoons are One Piece and Meitantei Conan.
Her favorite television shows are animal shows and music programs.
Her favorite animals are dogs, dolphins, hamsters, and horses.
She likes the Eco-Car.
She can moon-walk.
Her favorite colors are pink, gold, silver and white.
She'd like to travel to Italy.
External Links
[
]